The Buddhas Everywhere. Seykhar Films Apple seed one sow shall always yield apples, not mangoes. Juno, NASA sent to the Jupiter in 2011 is now orbiting around the planet with near precision Scientists had predicted. Aren't things seem perfectly in order in this universe? However, we all know that everything is in chaos when it […]
A monk from Tibet arrives in Oakland in California on an unlikely mission: to meet his son after more than twenty years of separation. The son, Tenzin, however, is untraceable. Alone and helpless, a stranger in a strange land, the monk, Rabga, finds rescue in another Tenzin, a Tibetan taxi driver, who offers help in locating his son. The two embark on a journey – chasing clues, connecting dots, putting together pieces – and, along the way, discover things about themselves and each other that put in sharp relief the inescapable realities of their common fate: as a people of imperiled identity and vanishing culture. The story of loss and longing is infused with pathos and, at times, humor, arising from the clashing worlds of Buddhist heritage, Yellow Cab business, and Oakland's Homelessness, among others.
Phasellus orci metus, congue vitae sapien in, sollicitudin viverra turpis. Nunc tincidunt quis eros eget blandit. Cras sed scelerisque elit, ut ullamcorper elit. Sed imperdiet, eros id vehicula condimentum, magna nisl bibendum magna, iaculis dapibus libero odio in justo. Aenean dictum iaculis diam vel ullamcorper. Nunc dapibus, neque non commodo vestibulum, dolor sem imperdiet nibh, id scelerisque felis erat id nisl. 
Directed & Produced by TSULTRIM DORJEE & TASHI WANGCHUK
Director of Photography TSULTRIM DORJEE
Written & Edited by TASHI WANGCHUK
Assisted Produced by TENZIN GYALTSEN
Music POND5
Casting TSULTRIM DORJEE & TSERING DORJEE BAWA
Screenplay RINZIN LHAMO & DICKYI WANGMO
Graphics THINLAY DORJEE & YESHI CHODON
Script Consultants BARBARA GREEN, SONAM TASHI, HEIDI HEGWER & TSERING DHONDUP
Project Advisors BARBARA GREEN, SONAM TASHI, HEIDI HEGWER & TSERING DHONDUP
Lighting RINZIN DORJEE
Sound TENZIN GYALTSEN
Gey Rabga TSERING DORJEE BAWA
Homeless man TENPA JAMYANG
Tenzin's former girlfriend TSERING DOLKER
Tenzin's friend in India TENZIN LUNGTOK
High Peaks Owner LOBSANG KHETSUN
Police Officer GIOVANNI VASSALLO
Tibetan Nanny-1 TENZIN CHIME
Tibetan Nanny-2 TENZIN CHOEZOK
June 14th, 2017
California Theatre, Berkeley CA USA
August 25th, 2017
Bokhang Portland, OR USA
August 13th, 2017
Tibetan association northern California, richmond ca USA
September 30th, 2017
Buddhist film festival europe
October 8th, 2017
Tasveer South Asian Film festival
ABOUT SEYKHAR FILMS
Seykhar Films (formerly Tibet Motion Pictures & Arts) is established by Tashi Wangchuk and Tsultrim Dorjee in Dehradun, India in 2005. Much of our works are Tibet-related films. So far, we made three feature films, three documentaries, and several shorts. 'Phun Anu Thanu,' story about two exile brothers was our first feature film production followed by 'Richard Gere is My Hero' a story about four friends in Dharamsala, India. Our documentary, 'Democracy in Exile' commissioned by India's PSBT which is funded in part by the Ford Foundation was telecasted all over India on her National TV- Doordarshan. Our latest documentary, 'Scent of Juniper' won Rising Star award at the 2014 Canada International Film Festival. In the same year, our film was also one of the featured documentaries of the US-based media firm, The Archaeology Channel. 
TWO FILMMAKERS
Tsultrim Dorjee:
Tsultrim Dorjee co-directed, co-produced and cinematographed three feature films, two documentaries and several shorts under Seykhar Films. Earlier Tsultrim served Tibetan Govt. in Exile for about twelve years in numerous capacities. He is a man of resources and knowledge when it comes to the functioning and bureaucracy of the Tibetan exile world. In 2003, to pursue his dream of becoming a filmmaker, Tsultrim took a leave from his full-time job and studied Digital Film Production at Bhartiya Vidya Bhawan, Bangalore, India. His final project for the Diploma was an interesting short story about a young monk, 'Little Monk' which is appreciated not only by his classmates but also by the professors and teachers at the Institute. Tsultrim's keen interest in technology traces back to his childhood days when he used to open radio set, disassemble and then reassemble the parts by himself. 
Tashi Wangchuk:
Tashi Wangchuk co-directed, co-produced and co-wrote three feature films, three documentaries and several shorts under Seykhar Films. After completing his Master in Economics (MA) from Dehradun, Tashi Wangchuk worked for the Tibetan Institute of Performing Arts, TIPA, Dharamsala as a Public Relation Officer cum Teacher for about two years. It was here where he had received inspiration about arts and theatre. Soon he would be directing as well as acting in some of the well-known plays of the institute's youth wing- RTYC. In 2003, Tashi won a Fulbright Scholarship to study MFA (Filmmaking) at the State University of New York, USA. He now works for the Voice of America's Tibetan Service as a TV Producer, host and video editor. 

OUR FILMS
RICHARD GERE IS MY HERO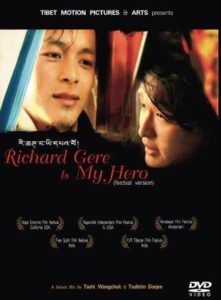 A heartwarming, character-driven romantic comedy with political undertones by the two exile filmmakers. The story follows a group of young Tibetan friends living in Mcleod Ganj, India, headquarters for the Tibetan government-in-exile. Nyima, who calls himself Richard and is a great admirer of Richard Gere for his acting and activism, has dreams of also becoming a famous actor and helping his beloved motherland. While Nyima and his friends go on whirlwind adventures through the city, a love triangle almost detours them from meeting their goal of performing in the Tibetan Youth Congress drama competition. Through the escapades of Nyima and his friends, Wangchuk and Dorjee show us how the many layers of life-including the romantic and the political can be imitated in art. While indicating the plight of being young, being in love, and being in exile, Richard Gere is My Hero never fails to be uplifting and is full of hope, both for Tibet and for the human spirit. 
Director: Tashi Wangchuk and Tsultrim Dorjee 
Writer:    Tashi Wangchuk
Producer: Dickyi Wangmo and Ugen Dolma 
Cinematography: Tsultrim Dorjee & Tashi Wangchuk
Music: Arun Sharma 
Editor: Tsultrim Dorjee & Tashi Wangchuk
PHUN ANU THANU (Two Exile Brothers)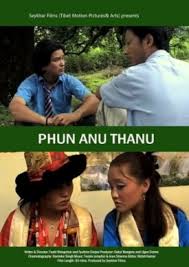 A story of two good for nothing brothers, Anu and Thanu and their unconditional love for two beautiful and educated daughters, Yangzom and Dechen of Gyakpon la (a camp leader) of Dekiling Tibetan settlement, India. Anu and Thanu are known for their unruly characters while Yangzom and Dechen for their positive qualities. Much against the wishes of the respectable Gyakpon la, the two brothers strive hard to win the heart of his two daughters. The film takes off on the 10th March 2005 when every Tibetan goes to downtown, Dehra Dun, to commemorate the 1959 Tibetan Uprising in Lhasa. The two brothers, however, do not attend the march and lingers around with the two sisters. Since there is no one present at the colony, the time is also perfect for two thieves to do their business. However, love rules the heart of potbellied school cook, Machen la, as he is busy making love with the wine lady, Ama Changma. Apart from entertainment, the film touches social, political, moral and health issues. 
Writer & Director: Tashi Wangchuk and Tsultrim Dorjee
 Producer: Dickyi Wangmo and Ugen Dolma  
Cinematography: Narinder Singh 
Music: Tenzin Jamphel & Arun Sharma 
Editor: Mohit Kumar 
Film Length: 90 mins.
THE GENTLEMAN OF SAN FRANCISCO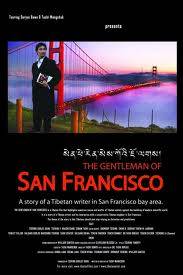 A Tibetan short film highlighting numerous issues and misfits of Tibetan society against the backdrop of the modern scientific world. It is a story of a Tibetan writer and his interaction with a conservative Tibetan neighbour who still performs divination in their daily lives in San Francisco Bay area.
Writer & Director: Tashi Wangchuk 
Producer: Tsering Dorjee Bawa
Cinematography: Nyaljor Samten
Music: Tashi Gonpo
Editor: Tashi Wangchuk
Film Length: 40 mins.
DEMOCRACY IN EXILE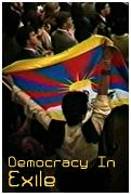 A 30-minute length documentary commissioned by PSBT and India's National Network TV- Doordarshan. The film is about two major options Tibetan exile community faces- Middle Way and the Independent Tibet. The film highlights the conflicting reality of Diaspora Tibetans in their struggle for future Tibet. It features Prof. Samdong Rinpoche, the then Prime Minister of Tibetan Govt. in Exile, Gudruk Kelsang Phuntsok, the then President of Tibetan Youth Congress and others. 


Writer & Director: Tashi Wangchuk & Tsultrim Dorjee
Producer: PSBT, New Delhi & India's National Network TV-Doordarshan 
Cinematography: Tashi Wangchuk & Tsultrim Dorjee
Music: Aaks Music.
Editor: Mohit Kumar 
Film Length: 30 mins. 
SCENT OF JUNIPER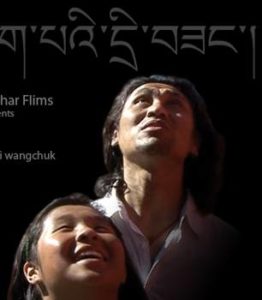 A docudrama about a Tibetan exile folk artist, Tsering Dorjee Bawa who lives in the San Francisco Bay area and his initiative in passing down centuries-old Tibetan literature and performing arts to younger generation Tibetans. He does so through the community's weekend culture school, which serves these youngsters who were born and raised in the US. 


Writer & Director: Tashi Wangchuk
Producer: Tsering Dorjee Bawa & Tashi Wangchuk
Cinematography: Tashi Wangchuk
Film Length: 30 mins. 
MISS TIBET IN EXILE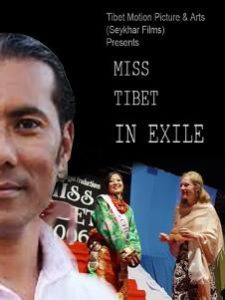 A documentary about the making of Miss Tibet beauty pageant in India and the winning girl's subsequent participation in the Miss Earth beauty pageant in the Philippines. The film portrays various behind the scene activities of the pageant's organizer, Mr. Lobsang Wangyal, and it also features several notable Tibetan personalities including Mrs. Gyari Dolma, Minister, Tibetan Govt. in Exile, Mrs. B-Tsering, the President of Tibetan Women's Association, Ven. Beri Jigme, Honorable member of Tibetan Exile Parliament and others.

Writer & Director: Tashi Wangchuk and Tsultrim Dorjee 
Producer: Lobsang Wangyal Productions & Seykhar Films
Cinematography: Tashi Wangchuk & Tsultrim Dorjee
Music: Aaks Music.
Editor: Mohit Kumar 
Film Length: 40 mins.